TD Ameritrade was one of the few brokerages that decided to persevere when the Securities and Exchange Commission (SEC) decided to pull the fixed commissions for brokers, resulting in many brokerages jumping ship and leaving their clients adrift. For the last 40 years, TD Ameritrade has managed to capture a trusting client base that allowed them to amass assets exceeding $1 trillion. For traders, this is a reassuring figure despite the risky nature of online trading. TD Ameritrade has a wealth of products at their disposal that surpasses expectations, as they don't simply stick to forex and ETFs, as their range also includes investment, retirement, and education plans.
Visit Broker at: www.tdameritrade.com
Pros and Cons
Pros
TD Ameritrade is known to provide one of the best online support services
Over $1 trillion in assets, which provide customers with peace of mind
Different financial products are available which means consumers can keep all their products in-house if needed
Good reputation in the industry with remarkably high peer reviews
$0 account balance required to keep account open
Account doesn't attract a low-activity charge
Usability of the website and related platforms is unrivalled and considered the current favourite among users
Suitable platform for both beginners and experienced traders
Cons
On the expensive side of trading as trades run at a fixed cost of $6.95 (minimum)
Commissions and other costs are quite high in comparison with peers
Not registered with the Federal Deposit Insurance Corporation (FDIC)
Users will need to open a savings account with another institution as none is offered here
Facts at a Glance:
| | |
| --- | --- |
| EU regulation | PRIIPS regulation code No. 1286/2014 |
| Minimum deposit | $0, however, minimum of $3,000 required to qualify for 60 days commission-free trading |
| Global support | International support desk offered |
| Webinars, introduction | Trader education webcasts and videos available on the site |
| Demo account | Practice accounts on the thinkorswim platform |
| Key features products | 313 commission-free ETFs, 4,000+ NTF mutual funds |
| Deposit bonus | None |
| Commission | $6.95 commission, $0.75 options per contract fee, $49.99 mutual fund trade fee, $13.90 short-term trading fee |
| Platform/Mobile Trading | Yes |
| Miscellaneous | Products on offer include stocks, options, ETFs, mutual funds, futures, forex, margin trading, cryptocurrency trading, managed portfolios, cash management, bonds and fixed income, annuities, IPOs, dividend reinvestment |
Visit Broker at: www.tdameritrade.com
TD Ameritrade Offers A Secure Trading Experience

For traders, one of the biggest considerations is whether they're trading through a reputable platform that has a good and sturdy foundation. TD Ameritrade ticks quite a few boxes that allow traders to rest a little easier despite the volatility of trading. For starters, TD Ameritrade has been around for more than 40 years and have provided clients with a brokerage service despite the chances that fees will be limited. They've also amassed an asset book that exceeds $1 trillion. From a regulatory perspective, TD Ameritrade is registered with FINRA which makes a platform available to would-be investors who want to ensure that their broker meets the necessary requirements. Although there is no FDIC protection, users still have a fair amount of asset backing to fall back on.
From an online safety perspective, TD Ameritrade is known for its attention to detail and prides itself in having one of the most secure trading platforms. In fact, users have a an Asset Protection Guarantee that reimburses clients if they experienced any losses due to unauthorized access to their profiles. The website also has plenty of tutorials on how to remain safe during online trading, and which system requirements are best for optimal security.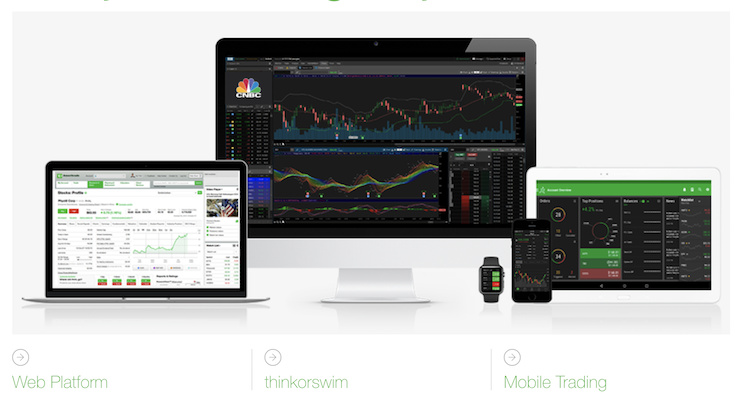 The Achilles Heel In TD Ameritrade's Perfect Portfolio Offering
It's only a matter of time before traders ask whether trading with TD Ameritrade is financially viable. A breakdown of the costs reveals that this online broker charges a hefty wage for its services.
Stocks – Users can expect to pay a trading fee of $6.95 per trade. There is also an Interactive Voice Response (IVR) Phone System fee of $34.99 for those who choose to use it. Broker-assisted trades levy a fee of up to $44.99.
ETFs – Users don't pay a commission on commission-free ETFs, however, those that are charged go at a rate of $6.95. There is also the IVR Phone System fee of $34.99 and broker-assisted fee of $44.99.
Mutual funds – A must for those who are loathe to pay fees, as there are hundreds of NTF (No-Transaction-Fee) options available. A No-Load fee of $ 49.99 applies, however, there is no fee on a Load.
Options – These can get a little pricey as there is the $6.95 commission plus the $0.75 fee per contract. Customers will also pay an Options Exercises and Assignments fee of $19.99. The IVR Phone System fee is still applicable at $34.99 per trade, but has an added $0.75 fee per contract. There is also the $44.99 fee for Broker-Assisted trades, which also levy the extra $0.75.
Futures – Traders pay $2.25 per contract, as well as all the exchange and regulatory fees.
Forex – In Forex, traders choose whether to go with the Commission or No-Commission currency pairs. The margin has maximum leverage of 50:1 on all major currency pairs and 20:1 on exotic currency pairs.
Visit Broker at: www.tdameritrade.com
TD Ameritrade Offers These Financial Products

For traders, there is nothing more exciting than signing up to a platform that offers more than the norm. TD Ameritrade tops out the charts for this reason, as it's not just Forex and ETFs that make a play for a user's purse here. Instead, TD Ameritrade offers a full range of financial investment and trading products to their clients. For those who were hoping to start their entire wealth-building journey here, a slight disappointment is the fact that the platform doesn't offer a straightforward savings account. The products that are on offer, however, are more than sufficient.
Traders can look forward to trading products such as Stocks, Mutual Funds, ETFs, Options, Futures, and Forex Currency. But TD Ameritrade takes it a step further and offers Fixed Income options too. These investments are ideal for long-term financial planning and include plans such as retirement options and education savings. These products are critical for users to meet their long-term financial goals, especially those who aren't sure about taking on the risk of trading. While these investments don't carry the insurance offered by the FDIC, they still carry far less risk than any type of trading.


Does TD Ameritrade Have A Demo Account On Offer?

The thinkorswim platform is a marvel on its own, and for beginners, this is the ideal space to learn. paperMoney is TD Ameritrade's version of a demo account and with it, users can learn the ropes. Users can practice the many strategies out these at their leisure, without having to touch their own funds To make this a little more interesting, the account is funded with a $100,000 in demo cash to start traders off. Only once a trader is comfortable to move on to the next level and fund their own accounts, do they experience the full risk of trading.
The paperMoney platform is not just available to those who wish to trade Forex, it also happens to offer options and futures trading. On this platform, users will already have access to chart indicators and studies to perfect their trades. During the training phase, users are exposed to the thinkorswim Challenge which allows them to taste the competitive nature of trading in a fun environment. Access to the platform is free and there is no time limit or obligation to move over to a funded account until the trader is ready. This is also the ideal platform for experienced traders to practice their strategies without risking their capital.
Bonuses And Other Additional Offers

While the platform doesn't offer bonuses such as the ones offered by competitors, the lack of bonuses hardly deter users from signing up with TD Ameritrade. What they do have, however, is a sign-up incentive for those willing to trade with a bit more than a few hundred dollars. Users can benefit from a 60-day commission-free period for online ETF, equity, and option trading when they open up their account with a deposit of $3,000 or more. Those who are willing to step up their deposit to $25,000 or more, will also enjoy the 60-day commission-free trading period, along with an extra $100.  A deposit of $100,000 gets users that 60-day period along with a trading bonus of $300. The grand prize of a $600 trading bonus plus the 60-day commission-free period goes to those who deposit $250,000 or more. For investors, the lack of additional bells and whistles only leaves them with the fresh, stark product. For TD Ameritrade, it says a lot about their standards when no gimmicks are required to get clients to sign up. Perhaps the best feature of these platforms is the fact that traders can start off their trading careers with a small deposit.
Visit Broker at: www.tdameritrade.com
Trading Software To Rival The Best At TD Ameritrade

While traders might, at first, be put off the fact that TD Ameritrade doesn't use MT4 or MT5 to facilitate trades, this worry is soon alleviated once traders become familiar with the options on offer. The first is the online platform, which provides the user with a streamlined dashboard. With the web platform, users work their way through stocks, options, ETFs, and mutual funds to build up their portfolios. The Dock is a customizable addition to the platform where users can define the information on it, such as news feeds from Yahoo! And more. The Social Signals portion of the platform relies on updates from various outlets, including social media sites such as Twitter. The Screeners option allows users to flit through various resources without losing information.
The other platform traders simply need to give a go, is the thinkorswim platform. It comes highly recommended and with good reason. Trade equities, options, futures, and forex are traded here and become a new home for traders, whether they're experienced or not. The app includes economic data, in-app chat, device sync, custom alerts, chat rooms, and more. It also features the latest data to help traders make the best decisions for their trades. One of the reasons TD Ameritrade customers are so satisfied with their products, is due to the ease with which they are able to access them, thanks to platforms such as these.
How To Open An Account With TD Ameritrade

For traders, the simplest part of their trading journey is the account opening process with TD Ameritrade. Users simply have to go to the TD Ameritrade website and click on the "Open New Account" option in the top right corner. There are five steps to complete before the account is opened and customers will need to have their Social Security Number (SSN) or Individual Taxpayer Identification Number (ITIN) available. They will also need their employer's name and address. For those who aren't citizens or permanent residents of the U.S. their foreign tax, VISA, or ID numbers are required.


Step 1:
This screen includes basic personal information and address details. Customers will also choose the type of product they require. They will also answer additional questions about their choices, along with a tick box that confirms whether they've read the terms and conditions.
Step 2:
This screen allows the user to flesh out their requirements a little more, based on their answers in the previous section.
Step 3:
This step allows users to confirm or change information to ensure that they've captured it as correctly as possible.
Visit Broker at: www.tdameritrade.com
The Servicing Side Of Things

This section is often the part where many brokers drop the ball and customer complaints reign supreme. TD Ameritrade, on the other hand, has developed their customer service offering to such a degree that there is simply no faulting it. From online chat options to emails, walk-in branches, and telephone support, this group sure knows how to keep their customers happy. TD Ameritrade has very few complaints in this section.
As far as the education and training of users are concerned, once again TD Ameritrade sets the bar. Information, tutorials, videos, and even online forums provide users with more than enough information to devise strategies that will allow them to trade. Furthermore, the platform has the mock account that allows users to play around and practice their newfound strategies without losing as much as a dollar. Once users are ready, they can switch over to the real thing and fund the account according to their needs.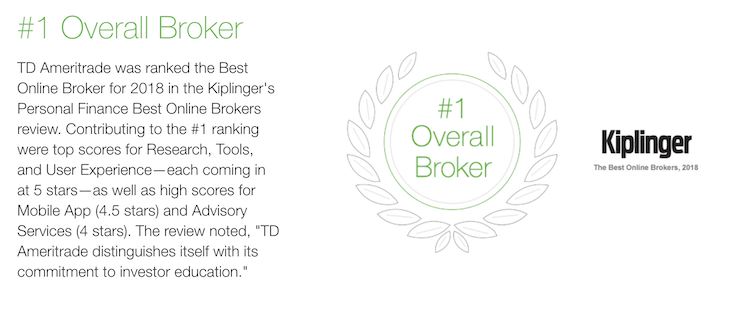 Quick Tips For Fast And Efficient Deposits And Withdrawals
The account opening process, which includes the funding side of things, can take place in as little as half an hour. For traders who are itching to get started, this is good news as time is money in the world of investments. There are five ways to fund the accounts:
Electronic Bank Deposit (ACH) – This option is suitable for those who wish to set up their deposit online and also happens to be the most popular choice. This option can reflect in 30 minutes but can also take up to 3 business days to appear. It all depends on the time of the transfer and which financial institution is used to facilitate it. Contributions range from $50 to $250,000.
Wire Transfer – This is a fast way of funding for those who bank with other financial institutions. These transfers usually take around 1 business day to complete. This is a popular way of funding a trading account for those who don't want to be restricted by limits. Traders may have to go to their bank to complete the wire, however.
Check – This option is a mobile-friendly option and users can also mail their checks in. It usually takes around 1 to 3 business days and there is no limit on the size of the deposit.
External Securities Transfer – This option is a little on the slow side, but is a good choice for those who require a retirement rollover option. It's set up online and there is no limit. Furthermore, the clearance period for this type of deposit is about a week.
Physical Stock Certificates – This option is fast and convenient, suited to those with stock certificates. The completion time is usually a day and there is no contribution limit.
Visit Broker at: www.tdameritrade.com
Overall Experience Of TD Ameritrade

Do an online search for TD Ameritrade and you'll a vast number of reviews that portray this broker as one of the best. It's hard to come across a review site that doesn't have TD Ameritrade at the top, let alone the top 10. There are very few reasons for users not to be enamored by the site, and when they're not, it's usually an isolated experience. For the most part, TD Ameritrade uses simple strategies to make – and keep – their client base happy. Customer service, great platform usability, and online security are three of the reasons why users come back for more.
While their pricing seems to be a little on the steep side, users feel that they get what they pay for and they're happy to part with the commission as long as they can enjoy seamless trading such as this. Would we recommend traders to sign up to TD Ameritrade? A resounding yes!
These reviews might interest you too: